Dexilant®, the last remaining single-source (brand name) treatment for gastroesophageal reflux disease (GERD), finally has a generic (dexlansoprazole) available. What does it mean for patients and payors?
Any time a pricey brand prescription drug goes generic, ostensibly it's a good thing. Yet drugmakers—through subsidiaries or contract manufacturers—often seize the exclusivity period for a 6-month or longer profit push.
Expect the same for a widely prescribed drug like Dexilant, whose list price has gone up roughly 50% since 2015 according to GoodRx. Interestingly, the generic received FDA approval in 2017 but didn't hit the market until January 2022.
According to Rx Savings Solutions price analysis, the generic's per-capsule price is just north of $7, compared to the mid-$9 price for Dexilant. Yeah, 23% seems like a nice discount. Until you see all the other options available.
Pick Your 'Prazole
Dexilant and its authorized generic belong to the class of drugs known as proton pump inhibitors (PPIs). PPIs reduce the body's production of stomach acid, so there's less chance of "burning" reflux, damage to the esophagus or ulcers in the stomach.
Dexlansoprazole and the other five PPIs are all slight variations on the same molecular structure. Generally, all are effective with low side effects. Like many drugs within the same class, efficacy and side effects often vary from patient to patient. You may not know the generic PPIs by heart, but you likely recognize their brand names: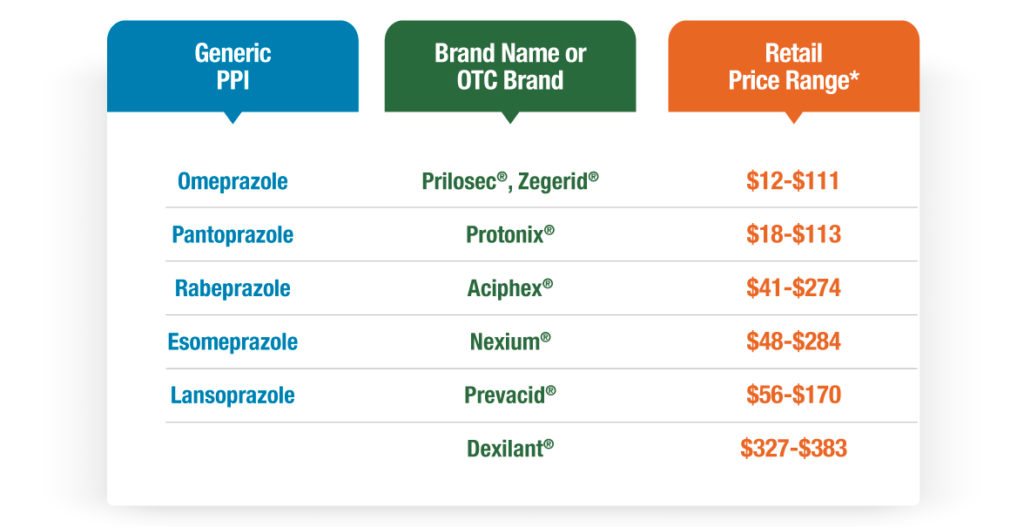 *For most common dose/strength, no insurance or discount
We've been pointing RxSS members on Dexilant to numerous lower-cost generic PPIs since the beginning. Many conditions are also treatable with over-the-counter strength PPIs. None of that changes now that generic Dexilant has joined the party.